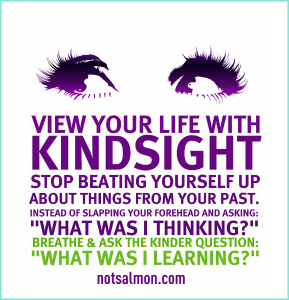 So, the little poster above I find amazing! It basically encourages me to move on and learn from my past, not live in my past, wishing circumstances, events, or relationships would have been different. We do our best with the information we have at any given time (and so do others, yo . . . everyone!)
My mentor has said that everything happens
FOR
us (focus: creator! learning, I can move forward with amazing gusto & POWer) and not
TO
us (focus: victim! OMG, I have no
pow
er!). That means even the crappy stuff is a gift, if we can look at it like that--through the eyes of learning and evolving!
I know I focus on gRaTiTuDe a Lot in my

bLog-TasTic

(as my British BfF, Rachel, would say!) bLoG, but it really and truly (swear on a stack of holy journals!) has made a

monsTeRous

(roar . . .) difference in my LiFe.
Here's the

Go(o)d NeWs

(or at least a few made up reasons . . . nOt . . .): It means . . .
I can trust that even if something feels like it totally sucks, there's an important lesson or higher purpose involved---one that my puny human girl-woman can't possibly understand or wrap my pea-brain around

there's probably something even more amazing that I couldn't even visualize in my life! Super cOOL caKeS!

I can quit trying to control everything, and just do my best and be myself and listen to my inner gp(self)

I'm not in charge

I can quit judging myself and forgive myself for my bad choices

I can say I'm sorry with integrity, and know I truly was doing my best at the time

I can quit judging others and forgive others for bad choices or hurtful stuff, knowing they were truly doing their best
Isn't it weird to think of being grateful for the yucky stuff? But, let me tell, you, the most difficult situations, events, and people in my life have been my greatest teachers!
NO LIE, GUY! (and girl, I just wanted to rhyme . . .)
When you look back at your life, can you make sense of some of your hardships and how they serve as blessings to you now?
Here's an example: I was, well, rather

bullied

and

picked on

by who I thought were

popular

kids in middle school, and by neighbor kids. They called me chubby,

teased

me, and said they didn't like me, and that nobody liked me (this was a cAveD in and wObBLy part of my liFe, you may guess . . .)
BUT . . . here's the amazing nEwS: I am a middle school teacher, and I totally get what it feels like to be THAT caved-in KID who gets treated like and feels like total

POO

(p). And I tOTaLLy give those kids extra love and TLC.
GET iT? What a capital G-gift! To be the receiver of the yucky stuff and to get my 8th grade kids who may feel the same way?
I'm so gR8-fULL. . . truly! I get why now. . . the Universe was preparing me to be a compassionate teacher and friend to my be(

LOVE

)d students!
What have you looked back on and been able to see the secret gifts in uR experience? Leave me a message in the comments!
Cool Beans &
LovE-ing life!